About Us
"To us, FURNITURE IS FASHION that enhances your working space".

Ezeefit stands up very differently when compared to other furniture companies, whereby other modular furniture company's supply only modular furniture.

Ezeefit comes up with a solution whereby, Ezeefit employs a dedicated in-house team of Architect's and Interior Designer's, so as to cater to the client's need of getting the Office interior designed and get the same executed by Ezeefit itself.

With Ezeefit, you get to have a very thorough professional touch, as Ezeefit comes up with more then two decade of experience and expertise in executing office interiors on turnkey basis, which includes Electrical wiring, IT wiring, Flooring, ceiling, painting along with Modular Furniture thereby avoiding coordination issues with different agencies resulting in execution of site in quick turnaround time.

From time to time Ezeefit comes up with different designs and different products which remains the exclusivity of Ezeefit in Indian furniture market.

This comprehensive range includes a series of innovative workstations – each one of which is a perfect combination of style and functionality along with a range of storage file cabinets; executive desk, cabin tables, conference table, reception desk, and many more or anything you say, which may include Work Pods, Phone Booth or could be Office Meeting Booths. Therefore, it is one of the leading Modular office furniture supplier along with 'Design and Build' solution to the corporate industry.

Ezeefit is comprised of a group of professionals specialized in their respective fields. The Bushra Group owns a vast land and has setup an advance production facility in Pimpri, Navi-Mumbai, where products are being manufactured.

Ezeefit provides it Design and Build services at pan India level and have a professional team capable enough to dispatch and install products to the site in any state within India.

Ezeefit is being run by Bushra Creations, an Indian conglomerate headquartered in Mumbai, Maharashtra, India. It operates in sector related to interiors of corporate offices, high end residences & commercial premises offering services of Interior Designing of Offices and also supplying Modular office furniture and turnkey execution of related interiors work.

Ezeefit Modular Furniture Private Limited is associated though it's Directors as Associate member of Indian Institute of Interior Designer and also as life member of Trans Asian Chamber of Commerce & Industry.

Mission
To be a one stop solution by providing Professional Architectural and Interior Design services to corporates for doing their Office Interiors along-with supply of Office Modular Furniture, consisting Full height cabin partitions, Workstations, Work pods, File cabinet, Reception Desk, Conference Table, Cabin Table, Office Phone Booths, Office Meeting Booths and many more.
Vision
To continually set standards of excellence in offering best value for style and comfort interior solutions in Customizable manner along-with professional interior designing of Office Interiors at pan India level.

Procedural Chart
Ezeefit follows a Procedural Chart, where the procedure of execution regarding work starting from Enquiry stage is been stated.



Enquiry


Site-Visit Appointment


Site-Measurement & Requirement Brief


Submission of Optional Floor Plans For Approval


Modular Fit-Out Costing & Finalisation


Receipt of Purchase Order & Advance


Raw Material Procurement & Production


Site Inspection of Product By Client at Our Production facility


Cleaning, Packing & Dispatch


Installation & Handover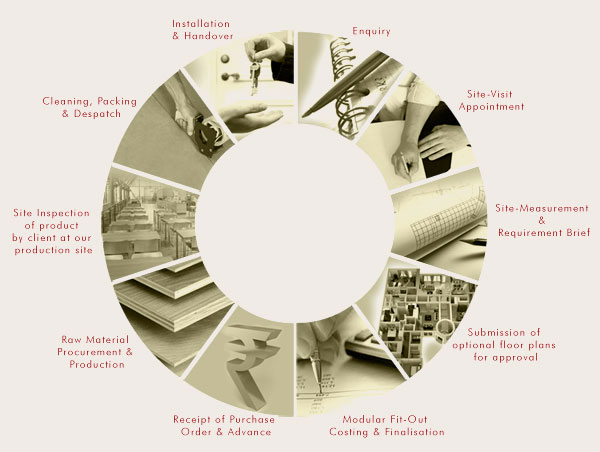 Ezeefit serves orders from other cities and states. It comes up with various floor plans with different configuration once existing site measurements are received. Once design and budget get approved, Ezeefit initiates production for the order at its facility in Mumbai and dispatches the final product along with installation personnel to the site for execution.

Proud Indian Manufacturer
WHAT IT TAKES TO BE #1


Throughout modern human history, the # has signified many things to many people. From numbers, to pound to the more recent Twitter trending avatar. At Ezeefit, this symbol represents our core strength - our trustworthiness.

It represents and shapes the organization's fundamental values, ideas and culture.

But it never stops at that, the dynamic symbol also projects our bonding, our growth, our limitless vision, our products' stability, durability and strength. It stands for our firm beliefs, our fortitude, our bold stance, and our ability to persevere consistently.

It's a symbol of our pride. Our Indianness.
The Story of Ezeefit Of Humble Beginnings & Noble Intentions


1990s, when Indian economy opened up and the country felt the impact of globalisation, a need materialized to revamp corporate India and its ancient office interiors. Bulky, space-eating, graceless, inefficient and one-dimensional office furniture, which took eons to manufacture, simply lacked the aspirational aura corporate India desired.

Many companies resorted to importing exorbitantly priced, import duty levied, delivered-after-months, modular office furniture. Jeopardising their budgets and growth trajectory.

Corporate India deserved better.

Observing such scenarios during the 90s, same thought crossed the mind of our Director - an Architect by qualification - who aspired to contribute to the nation's entrepreneur growth; which could, in turn, help India's economy pick its pace.

This was the beginning of Ezeefit, which originated from a bold yet noble intention of providing corporate India, its young and dynamic entrepreneurs, its innovative organizations with cost-effective, quickly manufactured and delivered, sleek, durable, sturdy, trendy, lively in nature Modular Furniture Systems.

Since then, this noble dream has turned into a flourishing reality.

Today, Ezeefit Modular Furniture is serving Indian Companies by offering them exceptional, end-to-end office furniture solutions. Letting them work effortlessly, expand their business speedily and achieve their goals, and ultimately, help the Indian economy grow.